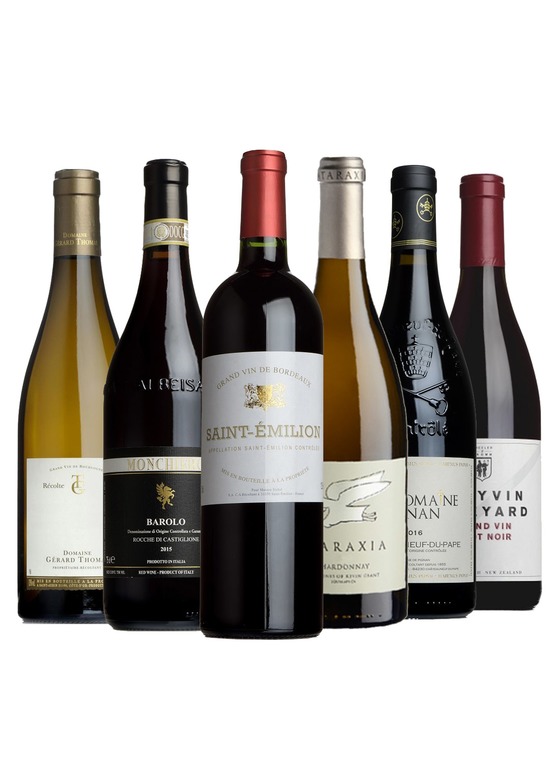 Art of Hunkering Down Mixed Case, which contains one bottles each of:

Saint-Aubin, Gérard Thomas 2016 - Lovely, floral Cote dOr white burgundy.
Ataraxia Chardonnay 2018 - Probably South Africas finest chardonnay. Decanter gave the 2016 96 points.
Grand Vin Pinot Noir 'Clayvin Vineyard', W&F, Marlborough 2013 - A delicious pinot noir from New Zealand of a quality hard to find in Burgundy under £60 or more.
Châteauneuf-du-Pape, Domaine de Pignan 2016 - 80 year old vines, 8 grape varieties , glorious Châteauneuf, in a stellar southern Rhône vintage (Decanter).
Saint-Émilion 2011 - The first declassified first growth we bought, from one of Saint-Émilion 2011s two Premiers Crus. Not from a great vintage, but as the great Michael Broadbent advised me 40 years ago Buy First growths in modest vintages, they dont know how to make bad wine." Drinking deliciously now.
Barolo 'Rocche di Castiglione', Monchiero, Piedmont 2015 - From the five star 2015 vintage (Decanter), and from the great Rocche di Castiglione vineyards that have been making fine wine since the early 1200s is a wonderful example of modern Barolo.


There are currently no reviews for this product.
Be the first to write a review.