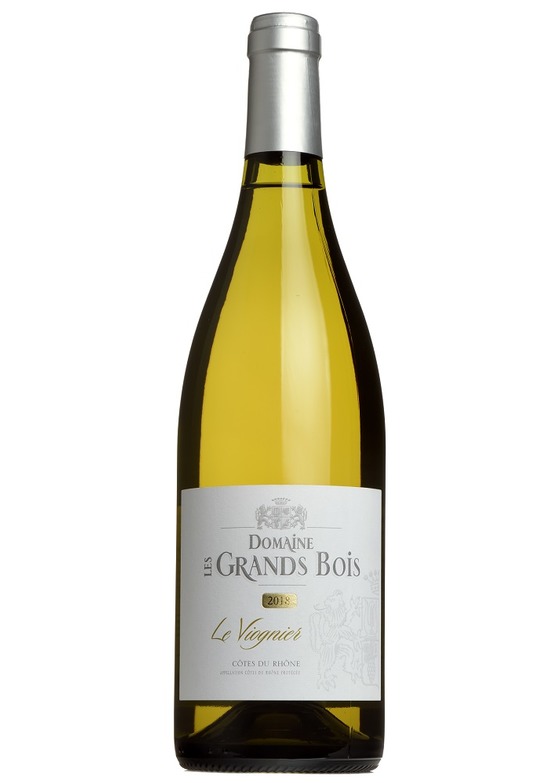 Côtes du Rhône Viognier, Domaine Les Grands Bois 2019
Dispatched from w/c 6th April 2020
The Rhône's glorious viognier grape is a lovely alternative to France's other dominant white wine grape varieties. Domaine Les Grands Bois is a small grower in the southern Rhône, organic since 2011 and in the same family since 1929. This is a wine that appeals to me as much as very good white burgundy but costs half the price.
Mirieille Besnaardeau's family have been making delicious - and highly-rated wines - at Domaine Grand Bois for several generations. We tasted the delicious new vintage of the Viognier with Mireille in France just a few weeks ago - 2019 is a great vintage in the region, and the family feel this could be their best-ever viognier.
"May be the finest value in Viognier that I have ever tasted" Robert Parker
"The 2018 Domaine Les Grands Bois 'Le Viognier' is from an estate that FVDs Esme Johnstone found quite by chance while in a café in Cairanne. So smitten was he by what he was drinking that le patron took him to the family-owned winery on the outskirts of the village and Esme spent a merry few hours tasting the range before flashing his chequebook and buying pretty much everything on offer. And who wouldn't be seduced by this gorgeously heady, peachy, apricotty and yet refreshing white? I love it and you will too." - Jonathan Ray, The Spectator Magazine
It can also be drunk very young. A regular star in the Guide Hachette des Vins.
Please note, the latest shipment we have received direct from the domaine is the 2019 vintage and will despatched from w/c 6th April 2020.
There are currently no reviews for this product.
Be the first to write a review.