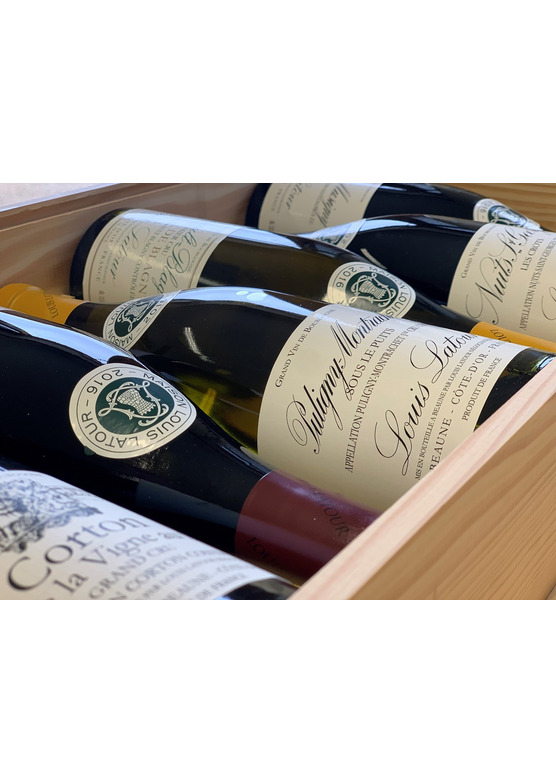 Louis Latour 2016 Vintage Fine Wine Case
Limited to one per customer
A special mixed wooden case of six fine burgundy's from Louis Latour. Each case is numbered from 1 to 60 and available only on a first come basis, with a maximum of one per customer.
The Louis Latour 2016 Vintage Fine Wine Case contains one each of the following:
- 2016 Meursault-Blagny 1er Cru 'Château de Blagny'
- 2016 Puligny-Montrachet 1er Cru 'Sous le Puits'
- 2016 Corton Grand Cru Clos de la Vigne au Saint
- 2016 Chambolle-Musigny
- 2016 Morey Saint Denis
- 2016 Nuits-Saint-Georges 1er Cru 'Les Crots'
"Founded in 1797, Maison Louis Latour - with 11th generation Louis-Fabrice Latour at the helm - owns some 50 hectares of prime Burgundian soil, including more Grand Cru vineyards than anyone else. The Louis Latour team farm these sustainably, using organic preparations where they can, making their own compost and ploughing as many as possible by horse. The Maisons attention to detail is legendary and the wines - from entry level to grand cru are of famously high quality.
Judge for yourself just how high with the following stellar selection which comprises one bottle each of 2016 Louis Latour Meursault-Blagny 1er Cru 'Château de Blagny'; 2016 Louis Latour Puligny-Montrachet 'Sous le Puits'; 2016 Louis Latour Corton Grand Cru 'Clos de la Vigne au Saint'; 2016 Louis Latour Chambolle-Musigny; 2016 Louis Latour Morey-Saint-Denis and 2016 Louis Latour Nuits-Saint-Georges 'Les Crots'.
The wines are packed in a bespoke wooden box in a limited edition of just 60, each one numbered. These are superb wines from a first-rate vintage and a producer at the top of its game. All are ready to drink but all will happily age yet further."
Jonathan Ray, The Spectator Magazine
There are currently no reviews for this product.
Be the first to write a review.