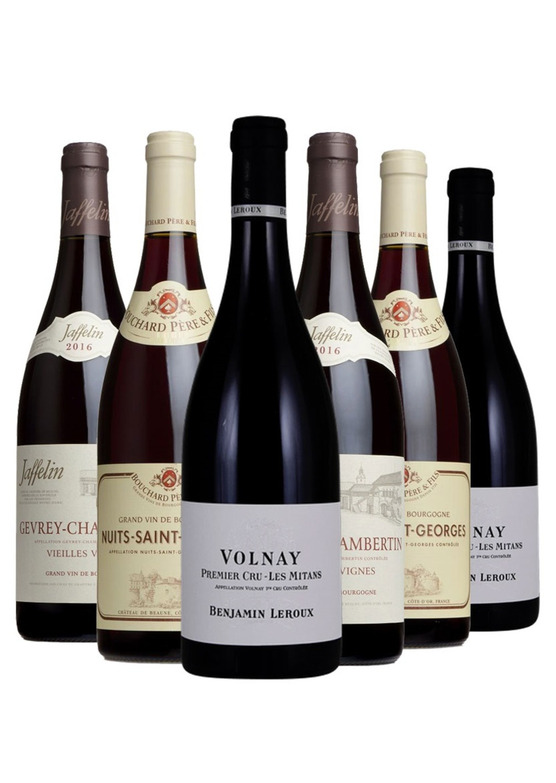 2016 Fine Red Burgundy Case
Hailed as one of the greatest vintages of all time, and certainly of the last 20 years, for red burgundy, 2016 is a rare cocktail of concentration, purity of fruit and structure. We have put together a case that brilliantly demonstrates three totally different expressions of fine red burgundy; from the exquisite silkiness of Volnay to dark, structured and powerful Nuits-St-Georges via muscular yet velvety, spicy and liquorice-scented Gevrey-Chambertin. This is a great way to discover this already legendary vintage.
Graceful, perfumed and high-toned, Volnay is the epitome of elegant Burgundy, especially with the addition of young vine fruit from the premier crus Santenots and Mitans. Benjamin Leroux consistently produced some of the finest pinot noirs in the world during his 14-year stint at the helm of famed Côte de Beaune property Domaine du Comte Armand, and his talent and experience are plain to see in his own wines - in his hands we have a Volnay of stunning balance and delicate power.

Maison Jaffelin crafted a Gevrey-Chambertin of excellent depth of flavour, fruit-coated and lightly grippy tannic structure from the old vine fruit below the Château de Brochon, an area with deep soils that yields wines of great fruit density. This Gevrey would sing with braised lamb.

Finally we move to the black-fruited, full-bodied and firmly structured Nuits-St-Georges from Bouchard Père et Fils; the impressive concentration of fruit is lifted by a sappy edge and savoury, gamey notes – you can lay this one down a couple more years if you feel like it, but crack it open with venison of any kind and it will richly reward!
This mixed case includes two bottles each of; 2016 Volnay 1er Cru Les Mitans, Benjamin Leroux, 2016 Nuits-St Georges, Bouchard Pére et Fils and 2016 Gevrey-Chambertin Vieilles Vignes, Maison Jaffelin.
There are currently no reviews for this product.
Be the first to write a review.