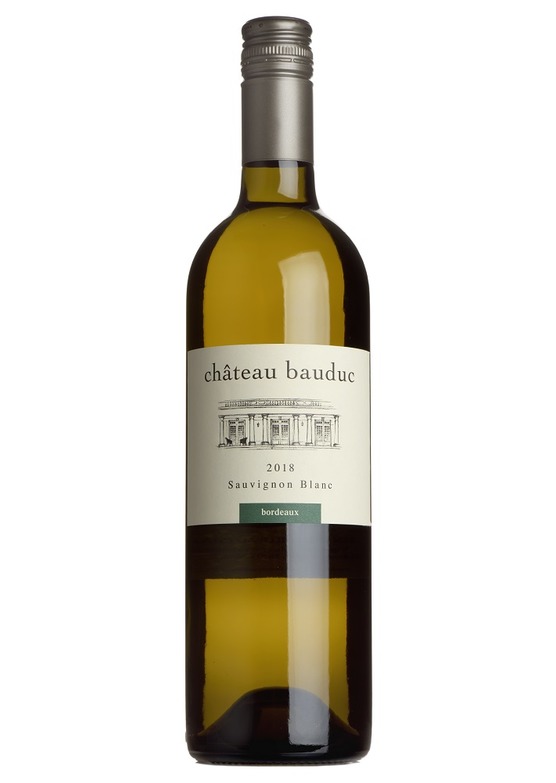 Château Bauduc, Sauvignon Blanc 2018
Gavin and Angela's Château Bauduc Sauvignon Blanc 2018 arrived back in stock at our warehouse this morning. The 2018 retains that remarkable freshness with dry citrus fruit flavours and just the right amount of body from the touch of Semillon in the blend.
"A thoroughly fine dry white Bordeaux it would make a lovely wine at the table. Excellent value." - Jancis Robinson MW
Château Bauduc have provided the house wine at Gordon Ramsay and Rick Stein's hallowed restaurants for many years now and praised by just about every wine critic in the UK.
Tasting note: Honey, lemon colour, a fresh sophisticated nose with excellent zesty citrus fruit. This fantastic dry white has great balance and acidity. Fresh, crisp and delicious with herbaceous and nettle notes in true character of this grape. The perfect food wine.
Details
Details
From the press:
"The 2018 Ch. Bauduc will be familiar to habitués of the Hotel du Vin chain and the restaurants of Messrs Ramsay and Stein (where it's the house white) as well as to our readers. A blend of 95 per cent Sauvignon Blanc and 5 per cent Sémillon, it's produced by Gavin and Angela Quinney in the EntreDeux-Mers and is crisp, clean and zesty, with plenty of fresh nettle and cut-grass notes too. It's a great wine to keep in the fridge, just in case." Jonathan Ray, The Spectator
"The zeitgeist of white wine drinking - the Bauduc whites hit it bang in the middle", "Affordable, approachable, Bordeaux needs another 100 Bauducs - and fast."- Oz Clarke
"A crisp, unoaked white. Unlike the wines of Marlborough, Bordeaux sauvignon blanc has gentlemanly understatement. Think unripe nectarines." - Victoria Moore, The Telegraph
"I strongly commend it to you at the price - a thoroughly fine dry white Bordeaux" it would make a lovely wine at the table - Excellent value." - Jancis Robinson MW
"This scrumptious sauvignon is packed with refined nettle and lemon grass zing" - This week's best buys, Jane MacQuitty, The Telegraph (11th January 2018)
"Bauduc Blanc is the Holy Grail - and, dare I say it, what we should all taste to remind us what Sauvignon Blanc should be like! - Matthew Jukes
"Vibrant and zesty, very modern Sauvignon from English-owned Château Bauduc, this sings in the glass with its pungent elderflower tempered by a blast of gooseberry and plenty of citrussy spark. In the mouth passion fruit and orange are bright and shimmering, yet something - a touch of peach, a hint of yellow plum - adds softer flesh before a pin-sharp finish" - Tom Cannavan, the wine-pages.com
"It is the most perfect wine. I feel like a specialist in £10 wines as I taste so many of them, and it hits exactly the beautiful spot. I love love loved it. And say any of that if you want." - Victoria Moore, The Telegraph
Reviews
There are currently no reviews for this product.
Be the first to write a review.