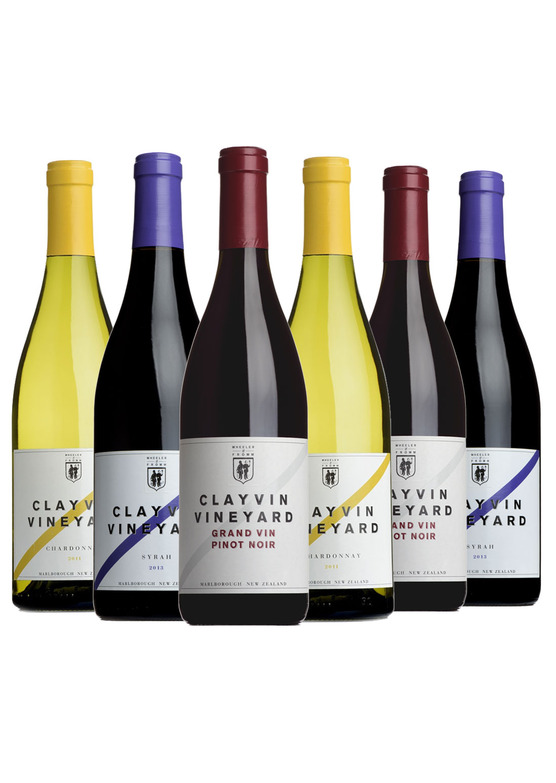 Top 2015 Clayvin Mixed Case
This mixed case includes two bottles each of the wines below;

2015 Grand Vin Pinot Noir 'Clayvin Vineyard', Marlborough, New Zealand
2015 was a top vintage for the region and this pinot noir is ageing very well. The nose already offers hints of the secondary, earthy, forest-floor aromas which pinot-lovers relish. The palate initially presents a delicate medley of red berry fruit, progressing to a velvety and smooth herbaceous character. The tannins are exceptionally fine and lead to a very complex and lengthy finish.
2016 Chardonnay 'Clayvin Vineyard', Marlborough, New Zealand
Marlborough in mind and body, but Burgundian in spirit. A fresh, crisp and tart cox apple fruit is followed by a gentle, creamy citrus that is no doubt from the 15 months spent in new and second fill French oak barrels. Wonderful.
2015 Syrah 'Clayvin Vineyard', Marlborough, New Zealand
The biggest, and most structured wine in the Clayvin portfolio, the syrah requires a little time, but has enormous potential. Powerful, dark and intense with a noticeable pepper and spice character. Serious and impressive - would not feel out of place on the steep slopes of the northern Rhône.
There are currently no reviews for this product.
Be the first to write a review.