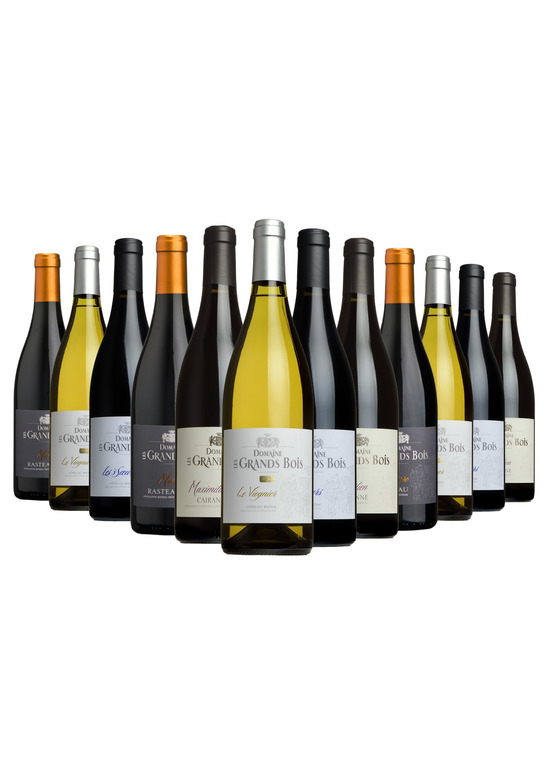 Domaines Les Grand Bois Mixed Case
A twelve bottle mixed case containing three bottles each of the wines below:
Côtes du Rhône Viognier 2020
The Rhône's glorious viognier grape is behind my favourite everyday house white wine from Domaine Les Grands Bois, and makes a wonderful alternative to sauvignon blanc or chardonnay. Difficult to grow, it nearly disappeared in the 60's and 70's, but is now extremely fashionable with Condrieu its highest expression. Robert Parker wrote "May be the finest value in Viognier that I have ever tasted".
Côtes du Rhône Cuvée Trois Soeurs 2019
Named after Mireille and Marc Besnardeau's three daughters – is a delicious predominantly grenache and syrah wine from 50 year old vines, from the charmingly named village Sainte-Cécile-les-Vignes at the foot of Mount Ventoux.
Cuvée Maximilien 2019
A blend of grenache, syrah and mourvèdre, the rich, highly scented and now highly fashionable grape needing hot sun to ripen to its best and often said to taste of blackberries. It is grown on the lower slopes of Mount Ventoux, the Rhône's highest mountain, celebrated by the great Renaissance poet Petrarch, who claimed to be the first person since Antiquity to climb a mountain for the view.
Rasteau Cuvée Marc 2018
Richer still, this wine is grenache, syrah and mourvèdre, and will age beautifully.
The Voignier is pleasantly and fruity. and drank well with some Coquilles St Jacques.