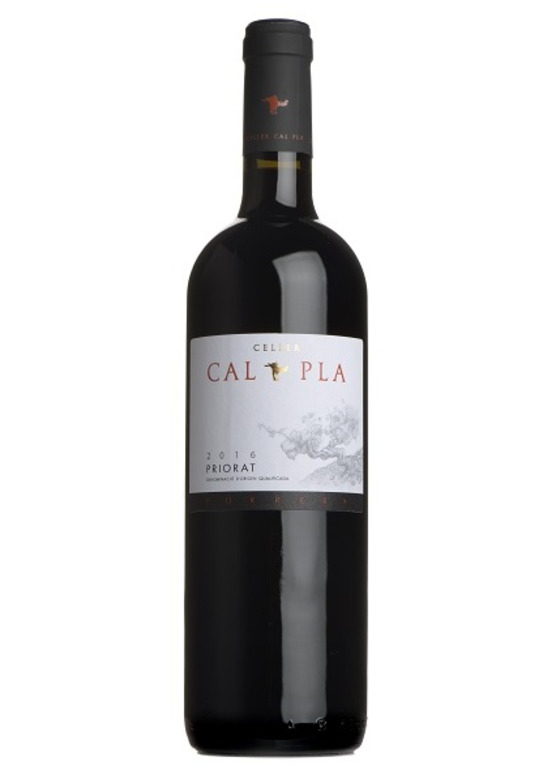 Cal Pla Crianza, Joan Sangenis, Priorat 2017
Brand new to our range, Cal Pla is a very smart and stylish barrel-aged Spanish red bursting with flavour, but also with quite some sophistication, structure and class. It was a universal hit with our tasting panel.

On my first buying visit to Spain 20 years ago, I was told by a leading MW who knew a great deal about Spanish wine that Priorat is going to be Spains next big thing. He was not wrong this wild, rugged and picturesque enclave of Taragona is now producing some of Spains very finest reds the very top boutique wines can run to hundreds of pounds a bottle this one is an absolute snip.

Made from 40 year-old vines, and aged for 15 months in French oak barrels - this is very deep in colour, with intense dark fruits. Quite serious in style, but also rugged and spicy with generous ripe blackberry notes. An alluring perfume adds freshness whilst the palate has layers and layers of flavour a touch of sweet, spicy oak and a very moreish character. Big, rich and powerful, but very well balanced, and hugely drinkable.
Catalonia straddles the border with Spain and France, and takes its vinous influences from both, with the best wines managing somehow to combine the warmth and expression of the former, with the finesse, structure and definition of the latter. Cal Pla is a blend of varieties from both countries combining Garnacha with Cabernet Sauvignon and Cinsault (known as Samso).
David Campbell's Review:
"We were sent around 15 possible new wines to taste whilst at home not as good as when we can taste together but thats the times. Esme described the Cal Pla as the standout wine so far rich, intense, serious. Yes and I agree completely. We stick to the FromVineyardsDirect rule for over 10 years that both of us must like the wine and will buy it for ourselves. If we dont and wont, we dont buy it. "

Esme Johnstone's Review:
"The terroir in Priorat resembles the surface of the moon. Preparing new vineyards for planting requires much more than a plough diggers and bulldozers to break through the rocky surface. A very expensive business but worth it when the result is wines of this quality."
"Also from Spain, but from Priorat further south east, the 2017 Celler Cal Pla Porrera is a gloriously satisfying Grenache/Carignan/Cabernet Sauvignon blend. Its big and bold for sure and, at 15%vol, punchy too but, with mouth-filling fruit, it slips down alarmingly easily."
Jonathan Ray, The Spectator Magazine
Grape:
/
Grenache/Garnacha
/
Cariñena
/
Cabernet Sauvignon
High quality of wine for the price, heavy, very rich and full bodied. Great with beef.
Decent bottle, good price for a Priorat but not as compelling or great value as I remember earlier vintages from five or so years ago.
Approachable version of Priorat (less grist than some), but still with the impenetrable depth and wrap around intensity for an evening with a slow cooked beef stew or osso buco. Good value.