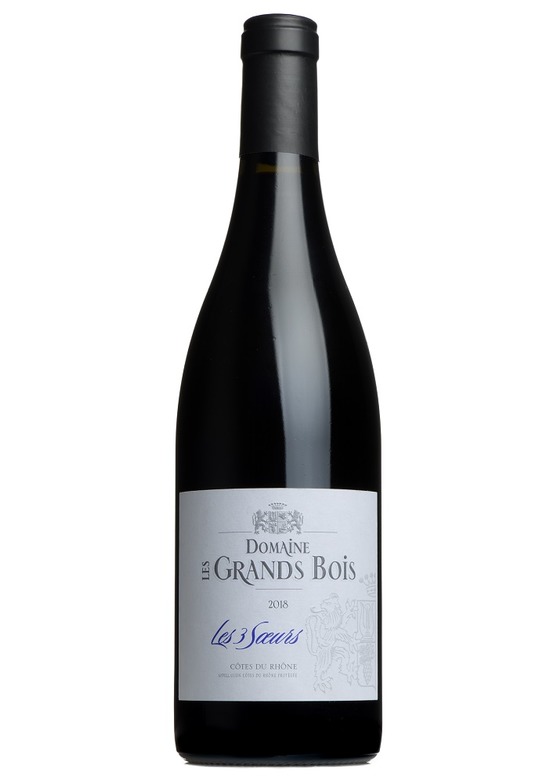 Côtes-du-Rhône Cuvée Trois Soeurs, Domaine Les Grands Bois 2018
Featured in The Spectator | £12.95 down to £11.95
This is the new 2018 vintage; rich, intense and delightful when we tasted it. Very highly recommended by us all at this price - superb value.
Brilliant bright red/purple in colour. The nose is full of intense blackcurrants and black cherries. The palate is full and rich, with lots of dark berry flavours and finishing with a touch of liquorice, pepper and spice with great length and delicious freshness on the finish.
'Les Trois Soeurs', Côtes-du-Rhône from Domaine Les Grand Bois has been part of our portfolio for the last 8 years and we have never had such a success with an affordable Côtes-du-Rhône red. Mireille and Marc Besnardeau along with their 3 daughters (hence 'les trois soeurs') are masters at crafting wines from syrah, grenache, carignan and the other Rhône varietals. This is their most affordable red and their 'introductory' cuvée. It is nothing short of spectacular with the heralded Robert Parker praising it with exceptional press over the years and scoring it 90 points.
"The 2018 Domaine Les Grands Bois 'Les 3 Soeurs' is the estate's entry level Côtes du Rhône, and ridiculously well priced. Named in honour of owner Marc and Mireille Besnardeau's three daughters, it's lusciously ripe and concentrated with rich dark fruit, spice and herbs and blessed with a long, fresh finish." - Jonathan Ray, The Spectator Magazine
The Domaine Les Grands Bois is located in the heart of the Southern Rhône. The vineyard has been producing high quality wines since 1920 and Marc and Mireille Besnardeau continue this tradition. These vines grow fantastically well in chalky clay soil.