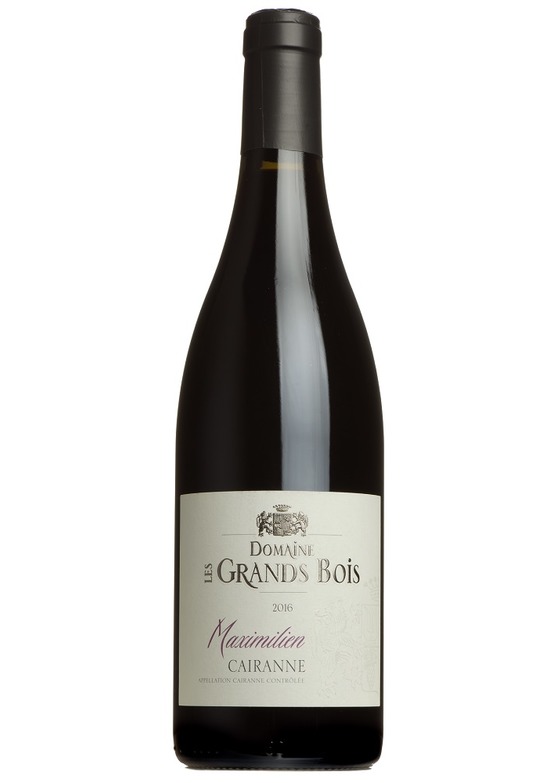 Cuvée Maximilien, Domaine Les Grands Bois 2017
Featured in The Spectator | £14.95 down to £13.95
Cairanne is with Rasteau the best of the 21 Cotes -du-Rhone Villages (Hugh Johnson ranks it above the Villages category) and this wine made with grenache, syrah , mourvedre & carignan is a wonderful example of a lovely Rhone red.
"Consistently one of my favourite estates in the Southern Rhône, Les Grands Bois produces Côtes-du-Rhône that consistently over-perform their appellation and modest prices." - Robert Parker .
"The 2017 Domaine Les Grands Bois 'Maximilien', highly rated by the great Robert Parker, is a step up in quality, being from Cairanne itself, one of the 21 Côtes du Rhône villages. A previous vintage even made the cover of Decanter magazine, so darn tasty is it. A rich, dark, intense, mellow blend of Grenache, Syrah, Mourvèdre and Carignan, it's spot on." - Jonathan Ray, The Spectator Magazine
2016 is an exceptional Rhone vintage and this Cairanne is a perfect example from a top appellation in brilliant growing conditions. It follows on, and in our opinion is better than, the 2012 vintage of this wine which received outstanding reviews in Decanter (95/100) - the highest score of the category in which many wines were priced at over £20 a bottle.
Tasting note: Steady colour with tints of purple, an intense nose with ripe red fruit notes including berries, raspberries wild strawberries and a hint of pepper. A soft attack, good strength, mellow tannins which allow fruity and spicy notes to develop. Long and fleshy on the palate. Best with game and grilled red meats.
Details
Details
"Already in bottle, the 2014 Côtes-du-Rhône Cairanne Cuvée Maximilien is another rock solid release from this estate (which should be no surprise from anyone that follows The Wine Advocate). Made from 50% Grenache, 35% Mourvèdre and the balance Syrah, completely destemmed and aged all in tank (it sees no wood whatsoever), it has terrific ripeness in its black fruits, licorice, pepper and earthy/underbrush-like aromas and flavors. These give way to a medium to full-bodied, textured, beautifully concentrated and charming southern Rhône shows the vintage's forward style and will drink well for 5-6 years." - Jeb Dunnuck, eRobertParker.com March 2016
"Regarded as the most powerful of the Côtes-du-Rhône Villages, this Cairanne weighs in with 15% alcohol and certainly packs plenty of oomph. The nose has lots of black fruit, but a meatiness too, some herb and pepper hints, but it immediately strikes a muscular pose. Indeed, muscularity runs through the wine in the mouth, with plenty of structural tannin and a grip of acidity underpinning the ripe, savoury but sweet fruit. A huge mouthful of wine, and a very good one. Watch the video for more information and food-matching suggestions." - Tom Cannavan TheWinePages.com
Reviews
There are currently no reviews for this product.
Be the first to write a review.