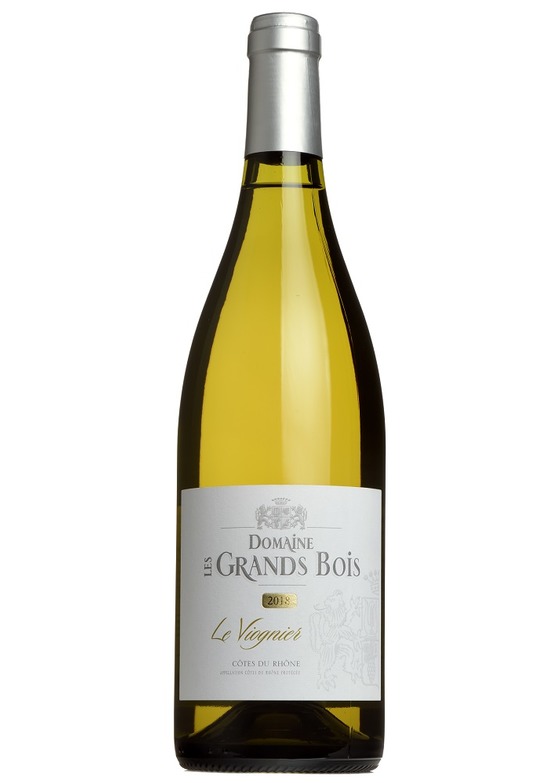 Côtes du Rhône Viognier, Domaine Les Grands Bois 2018
Dispatched from w/c 24th February | £12.95 down to £11.95
The Rhône's glorious viognier grape is a lovely alternative to France's other dominant white wine grape varieties. Domaine Les Grands Bois is a small grower in the southern Rhône, organic since 2011 and in the same family since 1929. This is a wine that appeals to me as much as very good white burgundy but costs half the price.
"May be the finest value in Viognier that I have ever tasted" Robert Parker
"The 2018 Domaine Les Grands Bois 'Le Viognier' is from an estate that FVD's Esme Johnstone found quite by chance while in a café in Cairanne. So smitten was he by what he was drinking that le patron took him to the family-owned winery on the outskirts of the village and Esme spent a merry few hours tasting the range before flashing his chequebook and buying pretty much everything on offer. And who wouldn't be seduced by this gorgeously heady, peachy, apricotty and yet refreshing white? I love it and you will too." - Jonathan Ray, The Spectator Magazine
It can also be drunk very young. A regular star in the Guide Hachette des Vins.
Details
Details
About the producer: The Domaine Les Grands Bois is located in the heart of the Southern Rhône. The vineyard has been producing high quality wines since 1920 and Marc and Mireille Besnardeau continue this tradition. The vines grow in chalky clay soil.
(Wine of the Week) "Ok, rule book out of the window! This lusty, ripe, alluring Viognier—the white, not red, that you need with the smoked ham and barley soup. You will not find a better team, this week than this partnership."- Matthew Jukes, Daily Mail (previous vintage)
"As readers have undoubtedly noted from previous reports on southern Rhones and best values, Domaine Les Grands Bois's proprietor, Marc Besnardeau, is at the top of his game, producing a bevy of wines that represents great value and over-delivers in every category. It seems like whatever Besnardeau fashions is well above its humbe pedigree and modest price. These 2009s and 2010s are the estate's finest effort since the brilliant 2007s." - Robert Parker, The Wine Advocate (previous vintage)
"90 Points—may be the finest value in Viognier that I have ever tasted. Made from tiny yields of 20 hectoliters per hectare this wine's extraordinary minerality was an unexpected surprise as I was expecting a tutti-fruity, plump white. Instead I got a classic Viognier exhibiting lots of floral, apricot, and peach notes intermixed with a crushed-rock like character as well as good acidity." - Robert Parker, The Wine Advocate (previous vintage)
"A winner, the 2010 Côtes-du-Rhône Viognier was fashioned from 10 to 60 year old Viognier vines cropped at a remarkably low 20 hectolitres per hectare. Explosive aromas of dried apricots, white peach and honeysuckle soar from the glass of this medium bodied, crisp, dry, refreshing authentic Viognier. It is difficult to believe that anyone can produce such a good Viognier (a somewhat tricky varietal) at this price " - Robert Parker, The Wine Advocate on 2010 vintage (previous vintage)
Reviews
There are currently no reviews for this product.
Be the first to write a review.