Bordeaux Explained and Explored
Margaux, Pauillac, St Julien, St Estèphe, Pomerol, St Emilion, Sauternes and more...
As the greatest fine wine producing region on earth, Bordeaux is synonymous with all that is prestigious in vinicultural history and practice. One cannot overestimate the influence its quality and traditions have had worldwide. It is, of course, home to legendary producers: Latour, Lafite-Rothschild, Mouton-Rothschild, Petrus, Chateau Margaux, Haut-Brion and Cheval Blanc as examples, all count among the more revered châteaux creating some of the greatest wines ever made - wines often commanding some of the greatest prices ever seen.
To simplify, the Bordeaux district is sub-divided by the grand riverbanks that define the Gironde estuary, the Left Bank, and the Right Bank. Owing to the predominance of quick-draining gravel in the former, cabernet sauvignon plantings are also predominant, whereas the Right Bank's majority of limestone, sand, and clay account for a majority of merlot under vine. The tradition in Bordeaux is firmly one of blending varietals, and with these, other secondaries such as cabernet franc, petit verdot and malbec will typically be combined.
With their gaining complexities, both areas are broken down further into more local appellations according to the unique terroirs they express. The following sections, though brief, should give you a basic illustration of what to expect from these varying appellations and how to view this wine producing region as a whole.
Left Bank Overview
Starring Haut-Médoc, St. Estèphe, Pauillac, St. Julien, Margaux and Pessac-Léognan
The Left Bank can be further divided in two: the Médoc, stretching northwards from the city containing the most prestigious communes for red wine, and Pessac-Léognan, Graves & Sauternes southwards. Apart from Sauternes, they are cabernet sauvignon-dominant, with soils composed mostly of different types of gravel. Uneven pebble sizes, alluvial deposits, clay, sand, all make up the varying terroirs upon which some of the world's greatest châteaux have produced for centuries. In their youth, Left Bank wines display darker, herbaceous, spicier fruit whose higher levels of acidity and tannin often render them well-structured and thus age worthy.
The 1855 Classification of Left Bank wines is over 150 years old but still very relevant today. It defines the top red wines from 'first growths' such as Lafite and Latour down to fifth growths which are still very impressive properties making excellent wines. This classification continues to be a major influence on wine-making quality and pricing at the top end of international fine wine markets.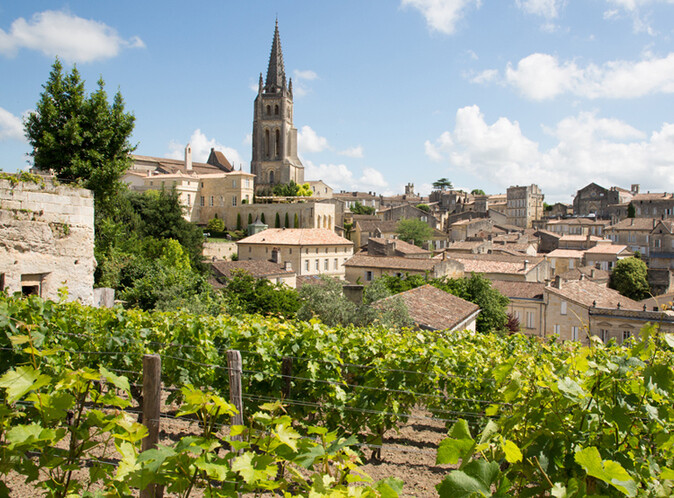 Right Bank Overview
Similarly, this Right Bank contains a number of smaller communes, the most renowned of which being Saint-Emilion and Pomerol. A clay and limestone base throughout much of the region supports merlot-led blends demonstrating fleshier, more opulent fruit suitable for earlier drinking than Left Bank wines. With much support from cabernet franc, wines are typically softer and rounder with deep plum, dark cherry, sweet spice, and mocha flavour profiles.
Saint-Emilion has its own classification structure with two main tiers: Grand Cru Classé and Prémier Grand Cru Classé, with the latter then divided again into A & B. There are 18 Grand Cru Classé producers, 4 of which are classified as A. Paradoxically, although Pomerol is these days considered one of the most prestigious (and expensive) appellations in the world, it is free of any classification system. All the same, it remains consistent in producing complex merlot and cab franc-base wines that are rich, powerful, supple, and deep.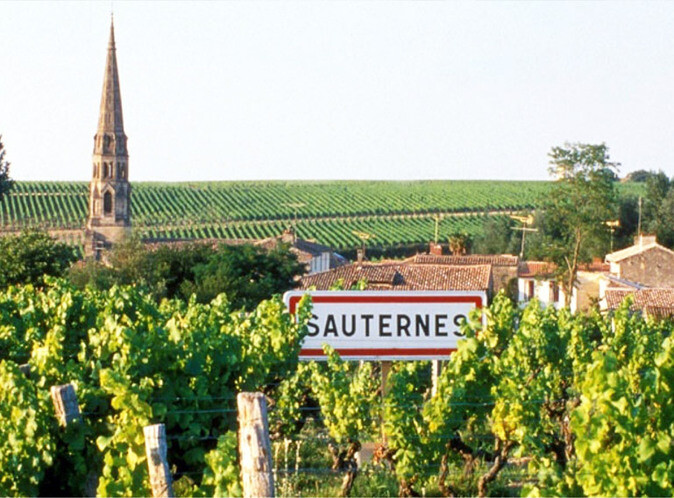 Sweet & Dry Whites
Starring Barsac, Sauternes, Graves, Pessac-Léognan and Entre Deux Mers
Although over 80% of Bordeaux's output is in red wine, there is indeed a tradition of white wine production whose most renowned appellation is found in the extreme south of the Left Bank: Sauternes. Here, some of the world's greatest sweet wines are produced, with the key factor in their vinification being the management of botrytis on the overripened sémillon, sauvignon blanc and muscadelle varietals that go into them. Otherwise known as 'noble rot', botrytis is a fungus that is encouraged in damp conditions to accumulate on berries for the purpose of concentrating their sugar content.
The wines of Sauternes are initially of a yellow-gold hue which deepens to amber with age. Typically, they will impart floral and fruity aromas, with sumptuous honey, spice, beeswax, almond, and apricot tart flavours on the palate. Given their high sugar content, it is crucial a high level of acidity is maintained to counterbalance what is an unctuous, full-bodied wine. By contrast, these same varietals are also used to produce the dry white wines found across many regions with the Graves, Pessac-Léognan and Entre Deux Mers appellations being best known. Such wines are typically a bright, green gold with white florals and citrus on the nose often followed by fresh apple and citrus fruit on the palate. Acidity is commonly very brisk and minerality pronounced.