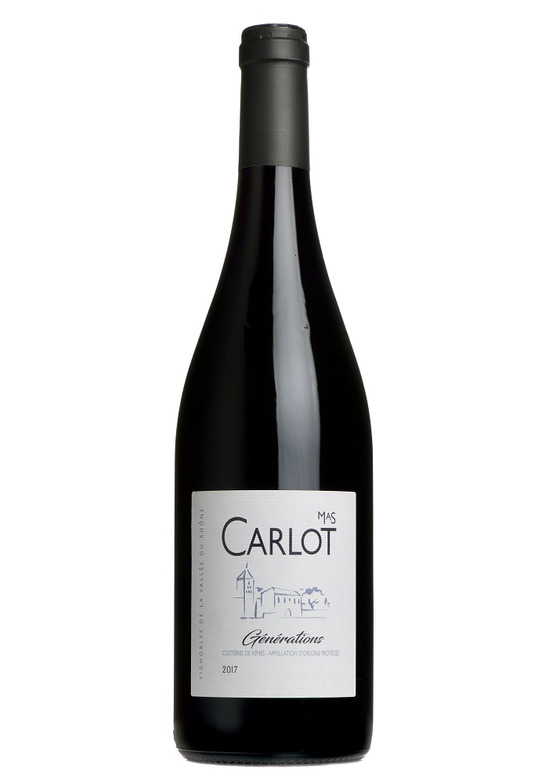 Mas Carlot Rouge, Générations, Costières de Nîmes 2018
This new vintage of Mas Carlot Red 2018 is a rich syrah and grenache blend, almost Châteauneuf in style - delicious.
Mas Carlot has for some years now produced the best wines in the Costières de Nîmes in the very south of the Rhône, close to the Roman town of Arles and amidst Van Gogh's favourite countryside.

"When I first visited Nathalie Blanc-Marès some seven years ago I was immediately captivated by her passion for her wines, how good and what great value they were. Since then the wines have got better and better with their prices almost the same." - Esme Johnstone
How does the wine taste?
Highly expressive and fruit-driven. The wine is rich with notes of dried berry fruits and sweet spice. Delicious and very moreish.
What do the critics say?
"The 2018 Mas Carlot Rouge is as enticing as its sibling. A blend of Grenache, Syrah and a dash of Mourvèdre for colour, structure and tannin, it's rich, dark and spicy with luscious bramble fruit and whiffs of aromatic violets and herbs on the nose. Stainless steel fermentation and concrete vat maturation ensure a vibrant, long-lasting freshness and oodles of pleasure in the glass."
Jonathan Ray, The Spectator Magazine
"Costières de Nîmes is a sub-region in the southern Rhône that isnt very well-known, meaning prices are often low - and this rewarding red from a renowned producer is a real bargain. Made from Grenache and syrah with a spiced blackberry theme, its a winner so stock up now before the barbecue season."
Matthew Jukes, Daily Mail (previous vintage)
Exactly what the doctor ordered. A sumptuously decadent red, made from Grenache and Syrah, that has backbone too. Also astonishing intensity - all warming red berried and sunshine."
Victoria Moore, The Telegraph (previous vintage)
Go to everyday wine. A fine round mouthful of flavour, with a little sunlit sweetness to finish. Category Yum.