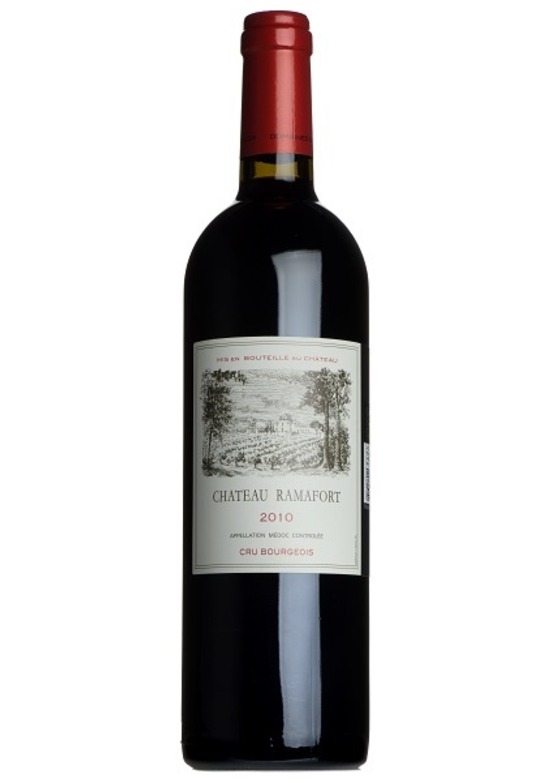 Château Ramafort, Cru Bourgeois, Médoc, Bordeaux 2010
Château Ramafort 2010 was my claret buy and bargain of 2019. The Château only releases its wines from its cellars deep beneath its vineyards when it judges them to be perfect for drinking. Their 2010, one of the great vintages of modern times, was only released late last year when we managed to secure our allocation. Most of the really good affordable 2010's have already disappeared from the market.
"It is an inescapable truth that 2010 has produced another year of compelling Bordeaux that will go down as a prodigious vintage alongside 2009". - Robert Parker
The Château, which was previously owned by Château Lafite, is one of the best Cru Bourgeois estates in the Haut-Médoc.

This wine has it all – rich, ripe fruit all in perfect balance with a classic and luxurious, long finish. Drinking beautifully now with 8 years of bottle age and a good 5 years ahead of it. My claret for the New Year (and beyond).
How does the wine taste?
A blend of 50% merlot and 50% cabernet sauvignon. Dense deep red colour in the glass. The nose is full of smooth and rich red berries and black fruit - cherry, blueberry and blackberries. The palette is wonderful with a full-body and weight to it, while incorporating gorgeous softened tannins after time in bottle. The style is clean with structure and a classic Médoc feel to it. There are very subtle chocolate and toasty toffee notes from the oak along with a gorgeous lengthy finish. Perfect now or hold over the next 5 years
Details
Details
About the producer: This award-winning Cru Bourgeois property has been holding discussions regarding the release of this 2010 vintage for some time.
Vines have an average age of 35 years which deliver rich and complex wines with minimal intervention. Winemaker, Magali Guyon, is a great believer in sustainable agriculture, and the estate is Terra Vitis certified. What is truly unique about the property is the magnificent underground 'cathedral', hidden 10 meters below the vines. This allows the estate to age over 10 vintages underground in perfect conditions with no temperature variation. The wines are then released during their optimum drinking period, and enjoyed in specialist wine shops and restaurants in over 40 countries around the world. From Vineyards Direct are the exclusive UK partner for Château Ramafort.
Reviews
There are currently no reviews for this product.
Be the first to write a review.