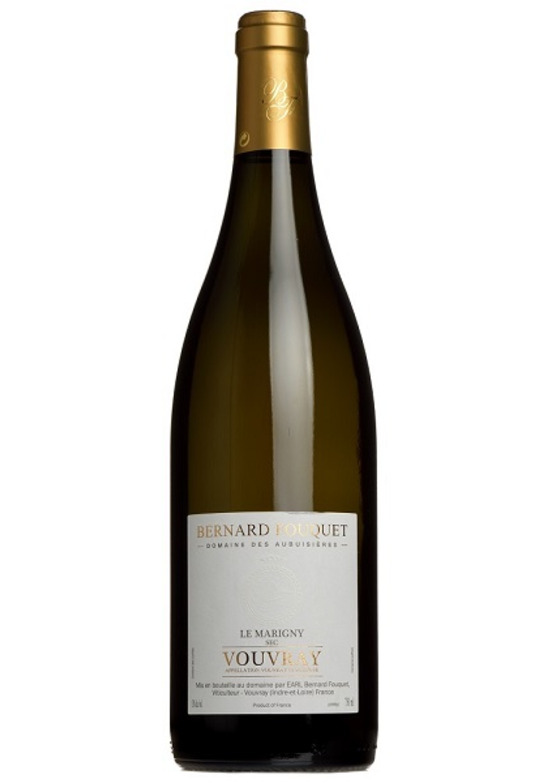 Bernard Fouquet, Vouvray Le Marigny Sec 2019
What style of white wine is Vouvray? Is it a sparkling wine? Is it still and opulently sweet? Medium dry? Dry?

Confusing as it may seem, it can be all of the above. It is an excellent source for some of the finest wines in the world, whatever your taste may be.The secret is the Chenin Blanc grape, and as it happens Vouvray is most famous for making arguably the best wine from this grape variety of any wine growing region.

Naturally endowed with both body and a fantastic spine of acidity, Chenin is brilliantly versatile and a true contender to the age old debate - what is the greatest grape variety?.
Bernard Fouquet's cuvée is of the bone dry persuasion. As I write this I have a tasting glass on my desk, a little condensation pearling down the sides of the glass, and the liquid inside is insanely refreshing. I absolutely love the core of Bramley appley fruit, the very delicately creamy texture and the thirst-quenching crisp freshness. This is gorgeous on its own, but I will have to open another bottle for Sunday's roast pork lunch – it will be a match made in heaven, I am sure.
Reviews:
"If you fancy another non-Chardonnay/non-Sauvignon Blanc, make a beeline for the single vineyard 2016 Bernard Fouquet 'Le Marigny' Vouvray Sec from the Loire. Chenin Blanc is all-too easily overlooked, maybe because the cheap stuff just isn't that good. In the right hands, though, as here, the grape really sings. Crisp, clean and fresh with hints of baked apples, stone fruit and honey, it's dry on the finish and — thanks to time spent in oak — has just the faintest whisper of vanilla." - Jonathan Ray, The Spectator (previous vintage)

"Far more complex - almost Burgundian - is Vouvray Le Marigny Sec Barnard Fouquet 2016. The subtle nose suggests a bouquet of wildflowers and there is a great delicacy, but also power and length on the palate, with just a hint of oak from the barrel fermentation." - Harry Eyres, Country Life (previous vintage)
I think this one is terrific. Almost exquisite. Lovely balance. This and Trillol are my go to wines from FVD.
Went down really well with salmon. Classy wine at this price.
Smooth and buttery as described but that comes from being heavily oaked which may not be to some peoples taste. If you want clean Chenin Blanc look to South Africa.
This is a really excellent Chenin Blanc, and superb value for money. We drank it with haddock followed by fruit dessert and it was perfect for both.