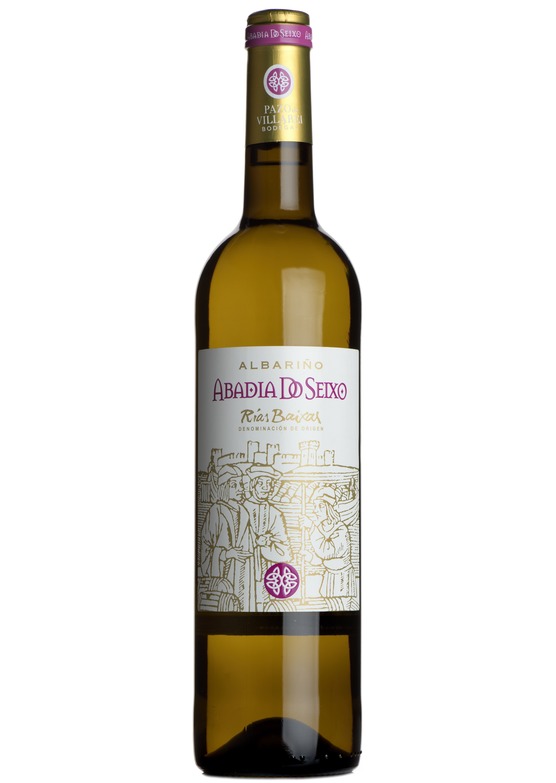 Abadia do Seixo Albariño, Bodegas Pazo de Villarei, Rías Baixas 2020
Spain's finest white wine is made from the apricot scented albariño grape in Galicia, on the northern atlantic coast. The best albariño is, like this one, from the Rías Baixas valley. This is a really delicious wine, especially good with the fish and the shellfish that are such a feature of Spanish life.
Bodega Pazo de Villarei dates back to the Iron Age Celts and the vineyards extend along the Salnés Valley, in the heart of D.O. Rías Baixas, between Arosa and Pontevedra. The Bodega has maintained the ancient traditions of the Celtic heritage reflected in their logo (see bottle shot below): the albariño is grown on 20 year old vines at high altitude allowing slow ripening with the warmth of the day counteracted by the cool of the night. This gives wonderful freshness and flavour.
David Campbell
Founder of FromVineyardsDirect
How does the wine taste?
Abadia do Seixo is made in an expressive, forward style, shining with ripe citrus fruit and tangy green apple flavours. It has a classic albariño minerality, with pretty floral aromas and a crisp, fresh, luscious palate. Delicious!
I am no wine connoisseur but we keep coming back to this Rias Baixas - fresh and crisp and so much better than the ones we have tried from the supermarkets
I'm a bit of a blinkered Francophile, but this Spaniard was a real eye-opener for me. We eat a lot of fish and shellfish and this is a delightful match. I will keep my eye a tad more open in future!