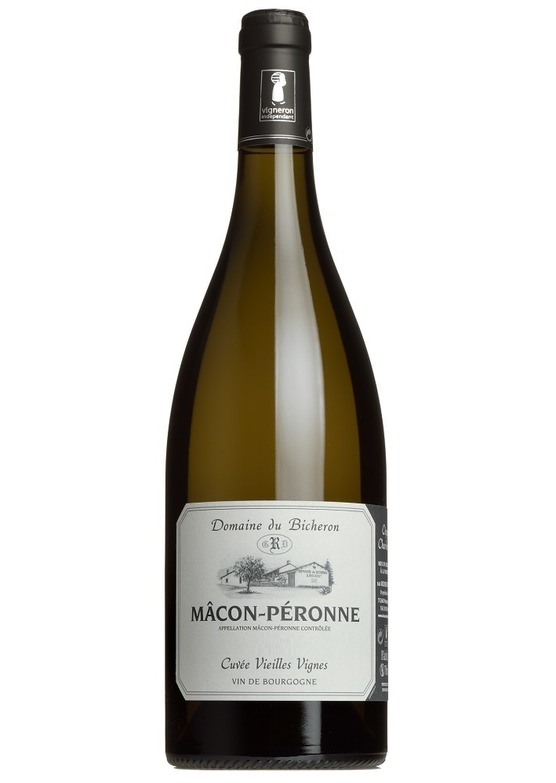 Mâcon-Péronne, Domaine du Bicheron 2016
For the last 5 years Domaine du Bicheron's Mâcon-Péronne has been our best-selling white Burgundy. A small family winery in the heart of Mâcon makes this delicious white Burgundy from their oldest vines and somehow unlike most Burgundians their prices remain remarkably modest.
The wine has had tremendous critical acclaim over the years from 'a lovely white burgundy at a modest price' to 'this could easily pass as Chassagne-Montrachet'. The current vintage is as good as they have ever made, if not better. You will love it!
Tasting note: A fresh, nectarine scented nose; richly textured palate with clean acidity, juicy, stone fruit character, mineral streak and a long finish. Very well put together, complex and full white Burgundy.
Details
Details
"The Mâcon-Péronne Vieilles Vignes 2014 from Domaine de Bicheron is an absolute steal (I rarely say that): the aromas are sumptuous, with hints of peach and melon, then there's ripeness on the palate, but all the requisite crispness and a hint of chalkiness (a positive note). This could certainly pass Chassagne-Montrachet." - Harry Eyres, Country Life (vintage 2014)

"It's made from old-vine Chardonnay just to the north of Pouilly-Fuissé and is very lightly honeyed on the nose with lovely supple peach, citrus fruit and a long finish. In short, it's cracking white burgundy and the sort of value for money upon which FVD built its reputation." - Jonathan Ray, The Spectator

"This Chardonnay has a concentrated and finely perfumed nose. There's something hinting at the exotic, but a pure apple and ripe Ogen melon white fruit character too. On the palate it really does have good intensity, the ripeness is there, and almost orangey brightness of fruit plus acidity, and just a teasing glimpse of more tart greengage and lemon. There's a custardy roundness, though perhaps just from lees rather than oak, and the powerful finish sustains. Lovely white Burgundy at a modest price." - Tom Cannavan, wine-pages.com
Reviews
There are currently no reviews for this product.
Be the first to write a review.