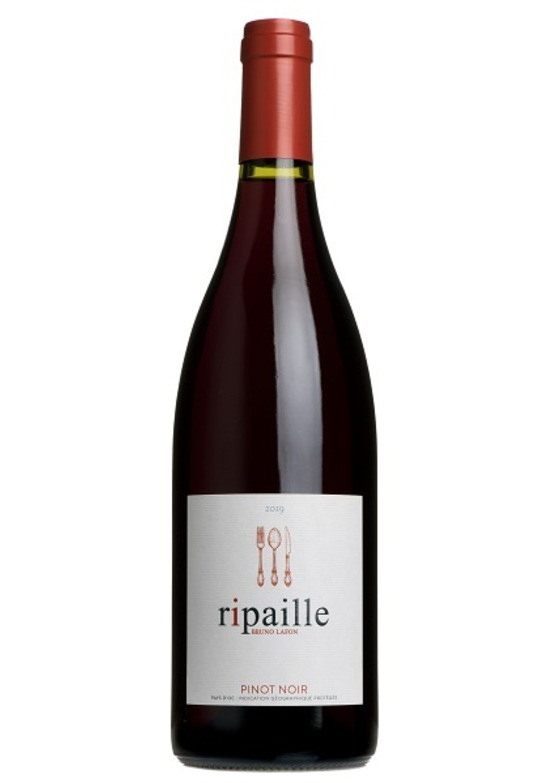 Ripaille Pinot Noir, Languedoc 2019
The new vintage of Ripaille Pinot Noir came back in our range a few months ago, and I have been meaning to re-taste it ever since, so when I spotted a bottle in the tasting room this morning there was no hesitation – I poured a glass to accompany my modest lunch.
"Faire ripaille" is a French expression relating to the pleasures of the table, and a "Bon Viveur" attitude to life – in fact the phrase points more towards a medieval banquet than the "jambon-beurre-cornichons" sandwich I paired it with as I write these words.

Still. Softly-textured, juicy, crunchy red fruit with just a hint of tobacco leaf and winter spice, this is an eminently drinkable and pleasurable pinot. The best places to produce this delicate grape variety are always on the cool side, and here the altitude of the vineyard and influence from the ocean slow down the ripening season and keep the alcohol levels relatively low and the acidity lively. The result is – you'll struggle not to finish the bottle!
Tasting note:
This superb wine from a small family estate is pale in colour, delivering a beautiful pinot nose of red berries and roses. On the palate, the wine keeps its impressive fruity character with silky tannins and offers a long fresh finish.

Reviews:
"A Pinot from the Languedoc, this has certainly retained freshness and edge in the heat of the south, with only 12.5% alcohol and a crisp, herb and red fruit nose. It's a Pinot in an authentically light- to medium-bodied style, fragrant and staying crisp and refreshing. The antithesis of 'blockbuster', but lovely of its style." - Tom Cannavan, wine-pages.com (previous vintage)
There are currently no reviews for this product.
Be the first to write a review.