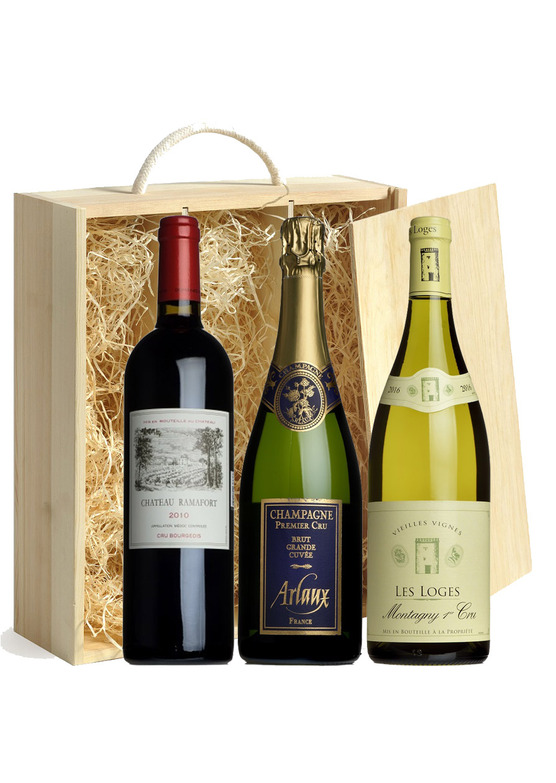 Vineyards' Signature Gift Trio
All gifts include free delivery
A three bottle selection of our signature wines, presented in a wood-wool lined wooden gift box.
The Wines:
Château Ramafort, Cru Bourgeois, Médoc, Bordeaux 2010- Château Ramafort is an excellent Cru Bourgeois from the great 2010 vintage that is now fully mature and drinking beautifully. The Château was formerly owned by Château Lafite and only releases the wines from its fairy-tale 17th century cellars when they judge the wines are perfect for drinking.
Arlaux Champagne Premier Cru, Grande Cuvée - My all-time favourite grower champagne has been one of the fastest-selling wines of our range this spring. Arlaux Premier Cru was placed top in a blind tasting by Robert Parkers Wine Advocate, well ahead of Grandes Marques Bollinger and Taittinger (which are at much higher prices).
Montagny 1er Cru 'Les Loges', Vieilles Vignes 2018- A fresh, lightly oaked wine with the weight, richness and complexity one expects from good white burgundy. Plenty of floral notes and a long finish. A delicious, lovely wine to drink with good food.
There are currently no reviews for this product.
Be the first to write a review.