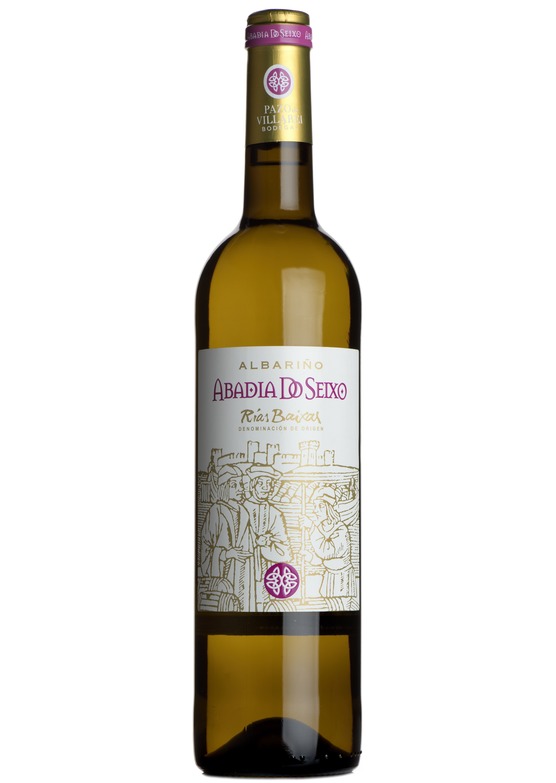 Abadia do Seixo Albariño, Bodegas Pazo de Villarei, Rías Baixas 2020
With January behind us we can all start to think of longer days, brighter skies and, whisper it quietly, perhaps a chance to get away and spend a few days in the sun. How does the phrase go? Sun, sand and sangria, well I'll happily forget the sangria but feel free to swap this with a far more wondrous Spanish tipple, albariño, and I'll be more than happy.

Albariño, arguably Spain's finest white variety comes from the north Atlantic coastal region of Galicia and is the perfect accompaniment to the fresh fish and seafood also found there.
Bodega Pazo de Villarei makes this fabulous wine from albariño grapes grown at high altitude on 20 year old vines. The resulting diurnal range of temperatures between day and night both maximise the flavour and lock in the freshness. There's a superb citrus zing to this wine, but also a nice weight to coat the palette and a perfumed aroma to delight the senses. If you're like me and rather in need for a bit of sun, a glass or two of this will soon transport you to brighter, warmer place.
- Robin James, Head of Customer Experience
How does the wine taste?
Abadia do Seixo is made in an expressive, forward style, shining with ripe citrus fruit and tangy green apple flavours. It has a classic albariño minerality, with pretty floral aromas and a crisp, fresh, luscious palate. Delicious!
About the producer
Bodega Pazo de Villarei dates back to the Iron Age Celts and the vineyards extend along the Salnés Valley, in the heart of D.O. Rías Baixas, between Arosa and Pontevedra. The Bodega has maintained the ancient traditions of the Celtic heritage reflected in their logo (see bottle shot above).
I am no wine connoisseur but we keep coming back to this Rias Baixas - fresh and crisp and so much better than the ones we have tried from the supermarkets. (previous vintage)
I'm a bit of a blinkered Francophile, but this Spaniard was a real eye-opener for me. We eat a lot of fish and shellfish and this is a delightful match. I will keep my eye a tad more open in future! (previous vintage)