Best Alsace Wines: David Campbell's Review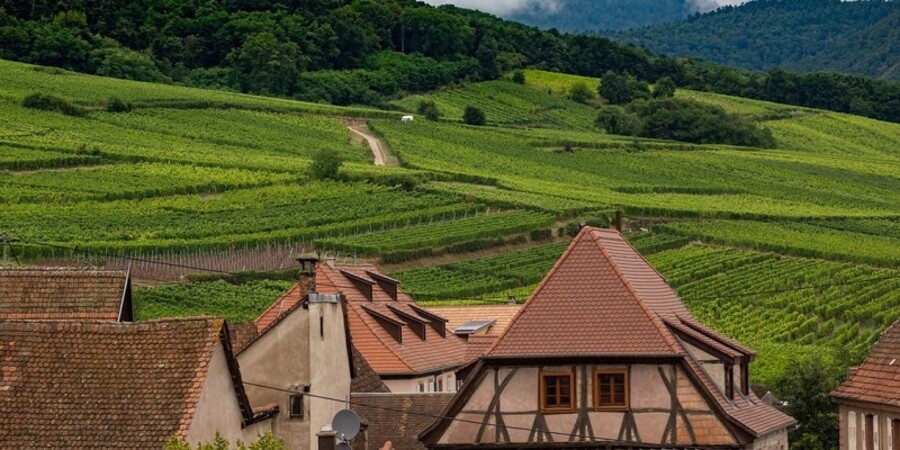 "If ever there were a summer to be drinking the heavenly wines of Alsace, well chilled, this must be it."
While many wine merchants will say their very favourite wines are from Alsace, they are wines still unknown to most drinkers. That is, unless you are lucky enough to have visited this exceptionally beautiful corner of France, in the unspoilt Vosges mountains with its many picturesque villages and superlative food. I've known Alsace, its cuisine and its wines well since hitchhiking there in my gap year and I always want to go back.
The Dopff & Irion families began their partnership following World War II and now, with 60 hectares, have some of the finest vineyards in the region (with the average Alsatian vineyard being a mere hectare). These three wines are all superb and worth exploring - you can buy them individually or together in our mixed case.
Pinot Blanc, Dopff & Irion 2019
At this price it's a must have in the rack - it's weightier and more mouth-filling than a Chablis or sauvignon. Pinot Blanc is often characterised by a lightly honeyed, baked apple character, in tandem with an almost earthy, exotic spiciness, which makes it very food-friendly. Great with Asian cuisine and pork dishes.
Gewürztraminer 'Cuvée René' 2019
A classic example of Alsace Gewürztraminer - aromatic, spicy and off-dry. Perfumed on the nose, with lychee, stone fruit and subtle spice on the finish. Opulent, rounded and delicious with Asian food.
Pinot Gris Dopff & Irion 2020
A lovely off-dry white wine which is well balanced with a refreshing acidity. Rich yellow in colour, with a nose of smoky notes and dried fruit. On the palate, aromas of quince lead to a fresh finish. Delicious with roast chicken, and summer salads.
Dopff & Irion Mixed Case
Try them all in our mixed case including four bottles each of the above.
- David Campbell, Founder of FromVineyardsDirect