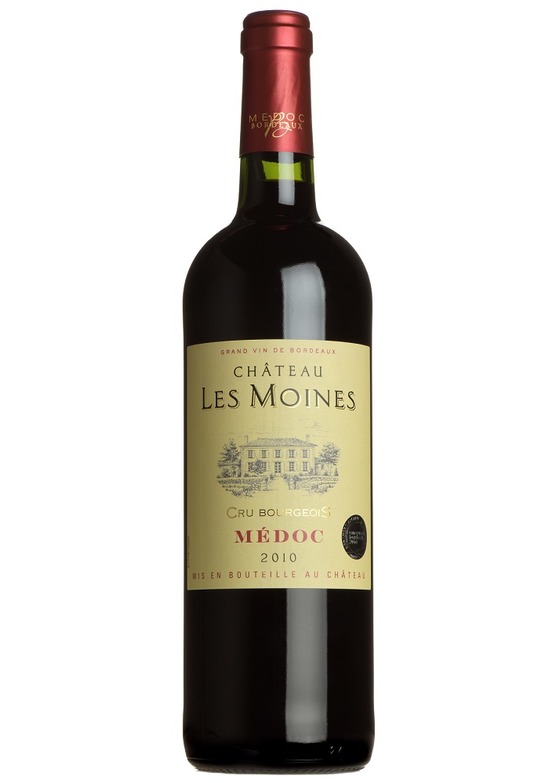 Château Les Moines, Cru Bourgeois, Médoc 2010
It is a wonderful mature claret at a very reasonable price from a vintage that is fast disappearing from the market. 2010 was widely considered the greatest vintage along with 2009, since 1945, and probably better because of the advances in wine making technology. You wont be disappointed!
"A fine Cru Bourgeois claret that always goes down a storm with readers and rightly so." Jonathan Ray, The Spectator
This lovely claret is full and round with a nose of dark fruits including cassis, blackberry and plum, with delicious complexity and just the right amount of oak. A rich, smooth and satisfying palate with great balance. It will be at its peak for another years.
Details
Details
"A fine Cru Borgeois claret that always goes down a storm with readers and rightly so. A blend of 70 per cent Cabernet Sauvignon and 30 per cent Merlot from a 10/10 vintage, it's resolutely in its prime with buckets of spicy, plummy fruit, and should be knocked back with abandon." Jonathan Ray, The Spectator
"A first tasting of this estate for me, the wine from another of the 21st century's outstanding vintages so far and a blend of Cabernet Sauvignon and Merlot. There's a beef-stock and game perfume to this, quite animal and appealing, though it is pristine (no off aromas) and that alluring character melts into plummy and tobacco-tinged fruit. In the mouth it is harmonious and complete, the ripe fruit supported by spicy oak, a solid tannin structure and elegant cherry acids, medium-bodied and really quite long. They have certainly captured the class of the vintage. Really very satisfying at this price. 90/100." - Tom Cannavan (previous vintage)
"Last tasted in 2015 when I rated it 90/100, this is cellaring very well indeed, still showing that ripeness of fruit that is modern and appealing, but not at the expense of classic Médoc character, a hint of game, cedar and liquorice, a pleasing dose of volatile leading on to a curranty, dry palate, but there's a slick chocolate to the tannins, the 14% alcohol no doubt aiding that generous mouthfeel, into a long finish where the sweet fruit persists." - Tom Cannavan, wine-pages.com (previous vintage)
"This Médoc blend of 70% Cabernet Sauvignon, 30% Merlot has richly fruited yet savoury aromatics of plum, cassis, clove and liquorice, velvety tannins and gentle supporting acidity. Its somewhere between traditional and modern in style" - Matt Walls (previous vintage)
Reviews
There are currently no reviews for this product.
Be the first to write a review.